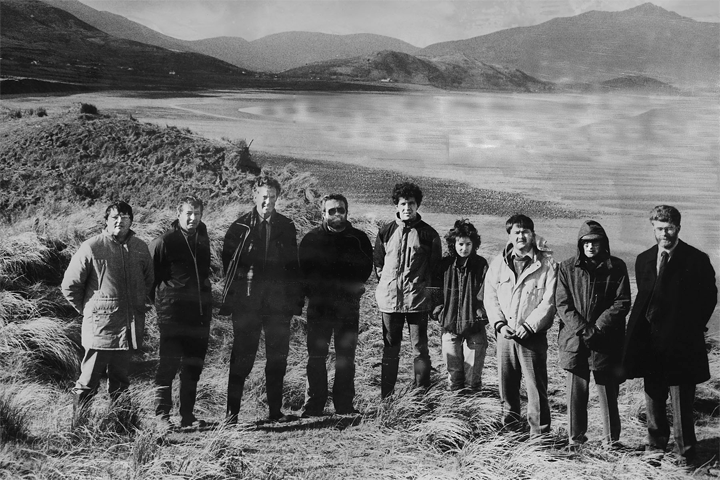 Pictured in January 1990 during the course construction, were from left, Mattie Maloney, Michael John O'Shea, Dr Arthur Spring, Peter Egan, Maurice Fitzgerald, Jackie Bowler, Martin Rice, Sean Bowler and Dr Tony Sills.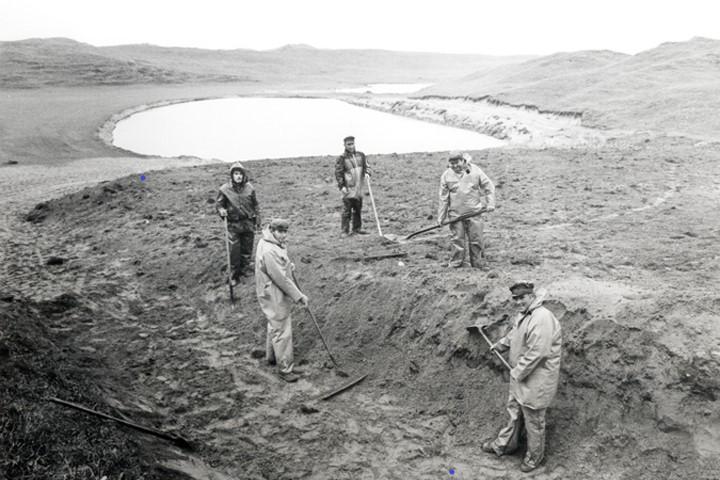 According to The Sportsman`s Holiday Guide 1897, a fine 18 hole golf course existed in the Castlegregory area – "about 3 1/2 miles in circuit it lies along the coast and is quite the first course in the Kingdom of Kerry". The Golfing Annals continued to list Castlegregory until 1905. The course would appear to have fallen into disuse with the reconstituting of Tralee Golf Club in 1907.
In the late 1980s the idea of a golf course in Castlegregory was again mooted. Local man Maurice Fitzgerald had long harboured a desire for a links course in the vicinity, and eventually a general meeting of interested people was held in Tralee Bay Hotel in 1988. The outcome of that meeting was the renting of 57.28 acres of land beside Lough Gill, near Stradbally village, from Mrs. Peggy Griffin.
Later, a small bit of ground was acquired on lease from Mr. Sonny O`Donnell (this is now the site of the 7th green). A committee was formed and under the chairmanship of Dr. Tony Sills, work commenced on a nine-hole links golf course in 1989. The course architect was Dr. Arthur Spring and construction manager was Michael John O`Shea. FAS, the National Training and Employment Authority, provided twelve workers for the project. In 1990 Mr. Martin Rice took over as Chairman of the Committee. Resulting from general meetings it was agreed to seek 75 Founder Members. Each Founder Member contributed £600 Irish Pounds to the project. The full list of original Founder Members is on a plaque, which is now on display in the Clubhouse.
In December 1994 Ms. Joan Ferriter became the first full time employee in the clubhouse, and in April of the following year Mr. Mike Dowd, as head greenkeeper, and Mr. Joe O`Flaherty, as his assistant, became the first full time workers on the course. In 1999 Dr. Michael Foxe was appointed as consultant agronomist to the Club.
Over the past thirty years the club has developed and now boasts a new clubhouse that has replaced the caravan that was the original clubhouse.